#Global Innovation Research #Sustainability Thinking #Circular Design #Material Design
How Sustainable Is Bhar
?
The design research evaluates an unsustainable deal between "no plastic" and "zero waste".
The motivation behind the design project is the evaluation of an arguable sustainable deal between "no plastic" and "zero waste", made by the Indian minister Piyush Goyal in 2019. He has attempted to avoid large masses of plastic waste and chosen to replace tea cups made of synthetic materials with traditional terracotta. Disposable terracotta cups have been used for generations and are called Bhar.
This project shows the initiative that "cleaning the environment is not about changing the nature of waste nor making impulsive compromises".
Bhar is a traditional disposable teacup made from terracotta.
Bhar is at the centre of centuries-old traditions in which potters recognise their traditional importance in life, in which customers taste the spiritual and valuable heritage when drinking chai in Bhar, and in which tea sellers are honoured to serve traditions.
Terracotta cups have gradually given way to polystyrene and coated paper cups due to their higher convenience, such as the ability to carry them in big stacks, and the lower prices of purchase.
Process
1. Research »
2. Defining challenges »
3. Visualising opportunities »
4. Design approach »
1. Research
The research question "how sustainable is Bhar?'' explores the ability of the terracotta cup to be a valuable alternative to plastic cups in India.
Please find the comprehensive research insights and discussion in the report called "A Journey To Sustainability Thinking" in my online shop »
[ printed: EUR 15, digital: EUR 10 ]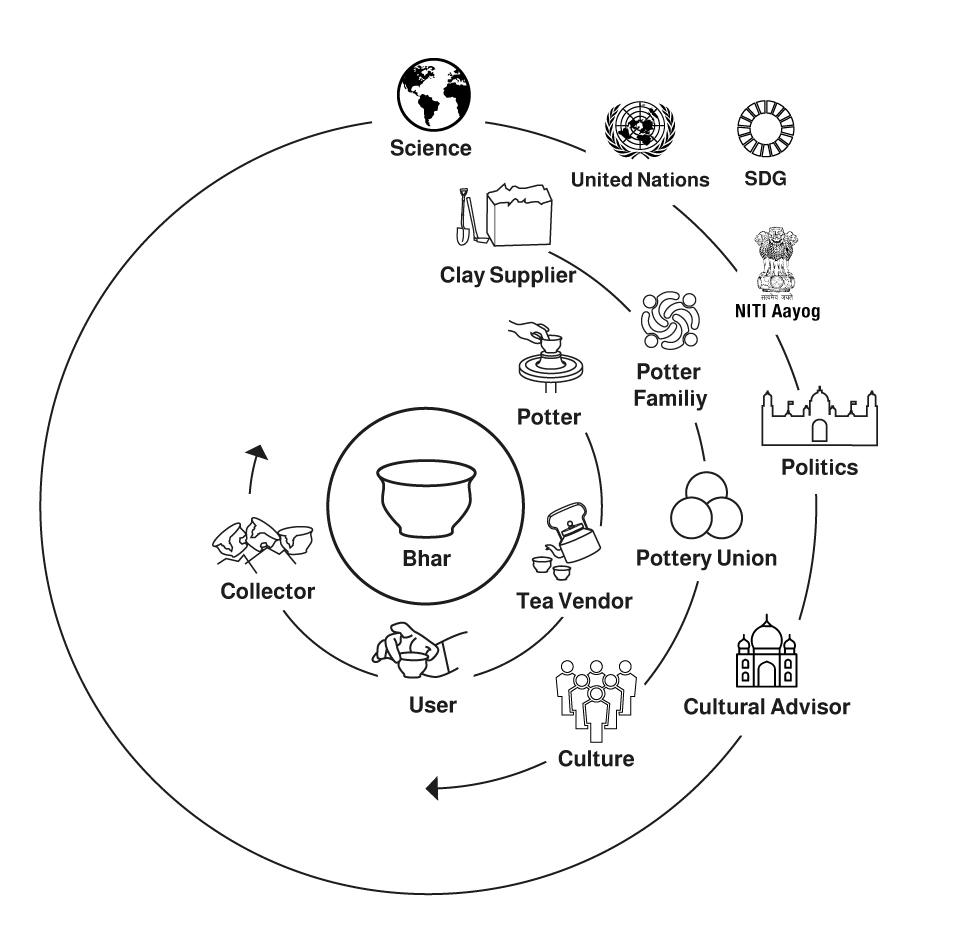 Stakeholder
Introducing a new policy or deciding on an innovative change requires the recognition of the opinions of all stakeholders. Who is involved and what are their opinions?
Insights
Why did Goyal decide to use Bhar as a sustainable solution to plastic waste? With the negative experiences of past attempts, what are Goyal's key benefits? What are the cup's characteristics and what impact does it have on India?
Process:
Ethnographic research in Kolkata, 2019:
Visual observations / Interviews with potter and tea vendor / User survey
Product and material evaluation:
Product analysis / Life cycle assessment / Ecological footprint / Material flow
Exemplifying insights:
Ethnographic research in Kolkata, India
Kolkata is a location in India where the tradition has been maintained and represented with pride. The integration of the cup into everyday life and the potteries that still exist in the district are features that distinguish Kolkata from other cities in India.
Visual observation
Bhar user
Tea drinkers enjoy the cup's special earthen flavour when terracotta absorbs the tea.
At tea stalls in Kolkata, you can see individuals of every gender, age, and class enjoying Bhar while taking a break throughout the entire day. Tea drinkers decide spontaneously or plan for a cup of tea during work. Each individual orders a tea in a certain size or material of the cup. Some users opt for tea in a paper or plastic cup. The vendor pours the fresh, hot tea into the specific cup and hands it to the tea drinker. At one stall, the user brings an empty cup into which the tea seller pours the hot tea. Because of the high temperature of the tea, Bhar uses an ergonomic curve at the top to hold the tea and is emptied in small but quick sips. Plastic and paper cups are handled similarly and held at the thickened, upper rim. The tea drinker stays at or near the stand until they have finished. Some younger users bring their own reusable mugs. One young woman brought her thermos for a larger amount of tea and took along some paper cups. After the cups are emptied, all kinds of materials are usually disposed of in bins next to the tea stall from which they were ordered.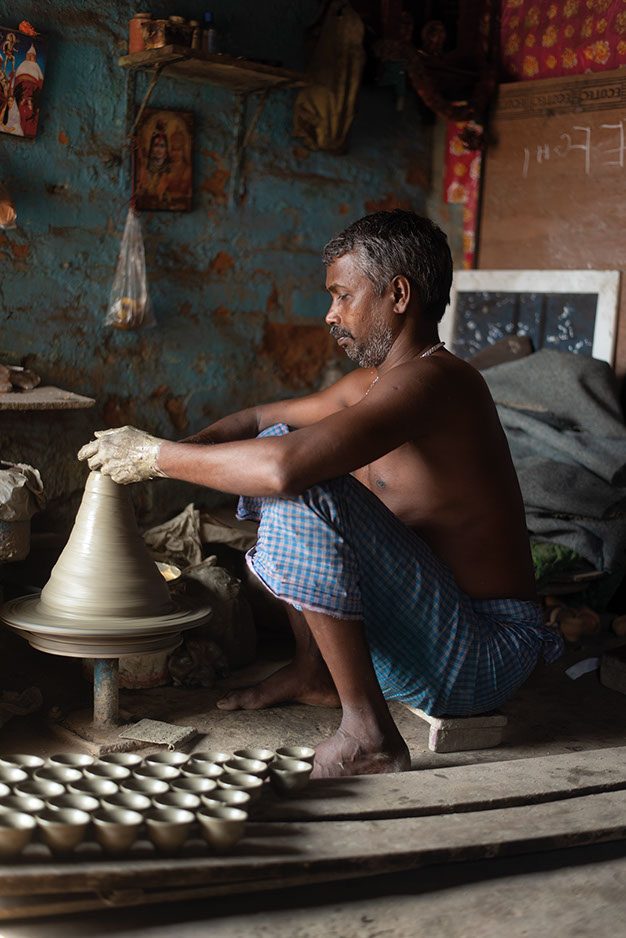 Interview potter
Ramdjar Prajapati, 42 years old
Ramdjar has been a potter for 30 years and has learned the craft and techniques of making Bhar from his father. He delivers to 4 different tea vendors in Kolkata. His wife helps with piling up the cups in the kiln and his mother uses the workshop to cast spiritual and decorative bowls. The family is not part of a union or association. He lives with his wife and two kids in the space above the workshop.
What makes the cup and your craft special?
Ramdjar prefers to drink his tea in Bhar because of its flavour. However, he does not see the cup as a handmade product with special value besides its role in the possibility to make a living.
However, he recognises his own signature in making Bhar which relates to the techniques he has learned, his fingerprints on the cups, or small inclusions via the characteristics of his clay. He recognises that each region in which clay is dug has its unique properties such as colour and texture.
Do you think the cup can be reused or recycled?
Ramdjar is convinced that no-one would drink out of a cup which had been used by someone else before.
He believes that terracotta is biodegradable and decomposes back into mud.
Product and material evaluation
Diameter: 57 ̶ 59 mm
Height: 43 mm
Weight: 34 gram
Capacity: 44 ml
Material:
Terracotta (raw clay from Diamond Harbor in West Bengal)
Made by Surinder Prajapati, Ultaganga south riverside, Kolkata, India, 2019
Product life cycle assessment
The product life cycle of Bhar includes the 4 stages: source, execution, utilisation, and discard. The assessment diagram starts with harvesting the raw clay and visualises the material processing, manufacture, distribution, use, and disposal of Bhar, as well as the decay of terracotta. It takes 12 steps, from raw material to waste.
Terracotta is a porous material that absorbs and stores liquids within a very short time. For these reasons, the discarded material is simple to grind and the new resource easy to manufacture.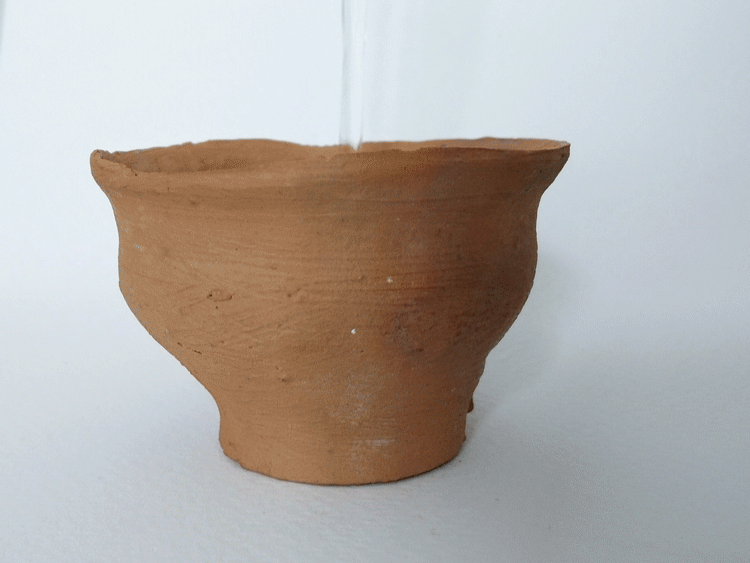 2.
Defining challenges
Piyush Goyal's project follows the global goal by the UN to protecting life on land. His concept his called "make India plastic free" and his strategy defines to prevent plastic waste. The minister's goal has been to avoid disposable plastic teacups for which he attempted to only utilise the disposable teacup Bhar. His solution are supposed to include the benefits of supporting traditional crafts and promoting Indian heritage.
The fundamental research of "How Sustainable Is Bhar?" illustrates the differences in motivation (goal) and perspective (solution), as well as between sustainability development, policy decisions, and real life. It presents a treasure trove of different statements on Bhar from a wide variety of positions, such as opinions from the natural and cultural sciences. This enables designers to identify relationships among individual stakeholders and contexts.
The challenge of this project is to analyse the Indian minister's project by looking at the traditional cup through many different eyes and placing these insights in context with each other. The project's process clarifies possible hurdles and provides new challenges for positive change. A positive change for Goyal's project is to realise the initiative by expanding the original strategy of "no plastic waste" to "zero waste".
3.
Visualising opportunities
Opportunity "zero waste"
Circular economy
Terracotta is a porous ceramic material which ceramists use as an advantage. They grain low-fired clay to mix it with raw clay which they use for several reasons. The amount of clay increases and the process of firing and shrinkage is better controllable, to name two often applied methods.
Natural terracotta is used for its hygiene and functionality. The material is porous, but strong enough that many cups don't break after disposal. If the cups are collected, then they could be maintained by cleaning through firing at a temperature of 100 degrees Celsius. This process would purify terracotta from organic material and bacteria, as well as offer the opportunity to use the advantages of the sandy soil for a more viable reason than construction material. Reused cups could gradually increase the amount of cups produced every day and recycled terracotta could improve the prepared clay. If the ground terracotta is distributed outside of the current life cycle of Bhar, then ceramic gravel or fine powder could be used for valuable designs.
What are the relationships in the context circular economy?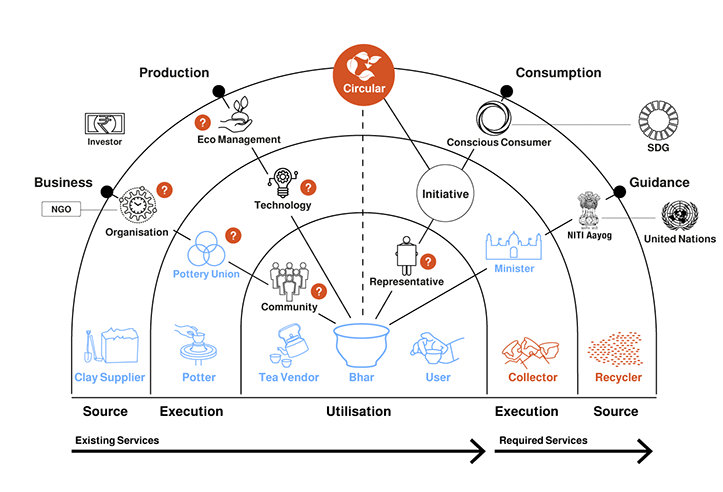 The diagram visualises in the circular economy example that the political intention to use Bhar as an alternative to plastic is more complex. Some areas should be taken into account in the execution or procurement of raw materials as well as utilisation.
Closing the cup's material life cycle through extending its material use.
Experimenting with the ceramic material terracotta
Experiments with the ceramic powder revealed unique patterns and textures which embrace a beautiful element of chance. Each item includes an individual character according to the clay's features, the grinding degree and the ratio of the mixed materials.
As a glaze or as a blend, fired at a 1240 degrees Celsius, created these fortuitous gradients.
A new material that can be used to increase the quantity of the raw material clay or for new design ideas.
The design approach imparts extending the cup's life cycle by designing out waste, enhancing the symbolic and market values of Bhar, and motivating users to responsibly appreciate waste as valuable resource.
Collection Bhar presents new design opportunities and places Bhar in a brighter light. The collection of ceramic products made of recycled terracotta showcases the cup as a responsible basis for a trend-oriented product culture.
© All rights reserved, Hanne Viehmann 2021, Impressum